ارسال شده توسطسید محمود جعفری در عناوین کل مطالب, مطالب علمی | 0 نظر
How much water is needed to produce food and how much do we waste?
http://md-jafari.world-watch.of-water.com/media/uploads/2016/01/1117785841-talab-ir.jpg
پزوهشگر  و نويسنده وتحليل  از سيد محمود جعفري

.
How much water is needed to produce food and how much do we waste?
چقدر اب در ليتر نياز است كه يك كيلو غذا توليد شود وچقدر با نااگاهي بشر در اين قرن هنوز به هدر ودور ريخته مي شود ؟چه كساني بايند اهميت دهندو وچه كساني بايد برنامه ريزي كنند /؟
50 درصد غذاي……. كه در كل دنيا توليد ميشود با نااگاهي بشر دور ريخته ميگردد.
ومردم گرسنه در دنيا جندميليون و يا ميليارد مي باشند.و اين ميوهاي پس زده از مغازها است كه در ذيل مي بينيد.
.گلي( گل) خوش بوي در صحرا روزي  رسيد از دست  استادي بدستم    و  ناگهان رو كر به من به وبگفت
بد بخت ملتي كه علم روز دنيا راقبول نكند و بدبختر از ان ملتي است كه نداند چگونه از منابع خود در كوتاه مدت وميان مدت وبلند مدت كه همان امايش سرزمين وتوسعه پايدار است استفاده نمايد.) وخوشبخت تر از ان ملتي كه با ناداني ولج بازي ملكت خود ومردم خودو منابع طبيعي خود را به باد دهد وفكر ايندگان نباشد
As much as 50% of all food produced in the world ends up as waste every year according to figures from the Institution of Mechanical Engineers. But how much water is needed to produce it?
Between 500 and 4,000 litres of water are required to produce 1kg of wheat according to a
.500 تا 4000 ليتر اب نياز است تا بتوان در شرايط مختلف اقليمي يك كيلو گرم گندم توليد كند
عكس سيد محمود سال 1983 ميلادي در دانشگاه ميسوري امريكا
report into food wastage published today. Photograph: Ahmad Masood/Reuters
As much as 2bn tonnes of food are wasted every year – equivalent to 50% of all food produced – according to a report published today by the Institution of Mechanical Engineers (IME)
The IME estimate that 30-50% (1.2-2bn tonnes) of all food produced is "lost before reaching a .  30تا 50 در صد تمام غذاي كه در دنيا توليد مي شود قبل از اينكه به شكم انسان برسد  نابود مي
گردد. وميوهاي بالا پس زده از مغازها است كه اين جانب عكس تهيه كرده ام در شيراز  human stomach". Consumer affairs correspondent Rebecca Smithers writes today:
The UK's Institution of Mechanical Engineers (IME) blames the "staggering" new figures in its analysis on unnecessarily strict sell-by dates, buy-one-get-one free and Western consumer demand for cosmetically perfect food, along with "poor engineering and agricultural practices", inadequate infrastructure and poor storage facilities.
Major supermarkets have also been blamed for food waste by rejecting crops of edible fruit and vegetables which don't meet their exacting standards for their physical characteristics (such as size and colour). Up to 30% of the UK's vegetable crop is never harvested due to this type of practice ( 30در صد )خانواده سبزيجات در كشور انگليس برداشت نمي شود و روي زمين مي ما ند.the 

.گزارش است كه در صدقابل توجه اي از ميوجات

وسبزيجات به لحاظ نداشتن كيفيت و مرغوبيت  سوپر ماركتها انها را پس مي زنند و در جلو مغازه ها دور ريخته و شما هم در مملكت خودمان كاملا مي بينيد كه چه فاجعه اي است . كشور هاي كه از تكنولوژي روز  در مراحل كاشت داشت وبرداشتضعيف و سيستم بسته بندي و از وجود سردخانه زميني ودر يائي و هواي وماشيني كم بهره يا بهرمند نيستند( تا وان )ان را از نظر مديرت واقتصاد وغيره پس مي دهند report claims.
The publication entitled 'Global food: waste not, want not' also aims to highlight the wastage of (3.8) مترمكعب اب براي انسان سالانه استفاده مي شود.energy, land and water. Approximately 3.8tn cubic metres of water is used by humans annually.    with 70% being consumed by the global agriculture sector.و
( 70 در صد )بطور كلي در بخش كشاورزي دنيا استفاده

مي شود. The amount of water wasted globally . اين مطلب همجنان برجسته مي كند كه چقدر انرژي و چقدر اب وچقدر اراضي زراعي  و چقدر پول هر سال به دست بشر كه ادعاي تكنولوژي روز دارند به نابود مي شود پس بايد نتيجه گرفت كه و كنجكا و  همت كرد بايد كار كرد بايد اموزش وترويج را فراموش ننمود. بايد دنياي كنوني با هم رابطه 

تنگاتنگ داشته باشند بايد مرزها را  باز

كرد براي  تبادل اطلاعات علمي  بايد مراكز تحقيقات كشورهاي پيش رفته را با خود مشاركت داده تبادل كارشناس  واز اساتيد وپزوهشگران ديگر كشورها در مملكت خود استفاده نماييم . البته اين قيمت هر ماه وهرسال

در حال نوسان بوده است.



واينقدر  وحشت از مسايل جاسوي  واحي نداشته زيرا به اقتصاد و  تمدن  مملكت خود لطمه خواهيم زد.

 ……. in growing crops that never reach the consumer is estimated at 550bn cubic metres.
IME claim that water requirements to meet food demand in 2050 could reach between 10-13.5tn cubic metres per year – about triple the current amount used annually by humans.
Meat production requires a much higher amount of water than vegetables. IME state that to produce 1kg of meat requires between 5,000 and 20,000 litres of water whereas to produce 1kg of wheat requires between 500 and 4,000 litres of water.
The table below shows typical values for the volume of water required to produce common foodstuffs. Chocolate tops the list with 17,196 litres of water need to produce 1kg of the product. Beef, sheep and pork meat all require high volumes of water for production also. Tea, beer and wine use the least according to the list. Compared to the production of meat, vegetable foodstuffs require considerably less water – 1kg of potatoes for example uses 287 litres of water.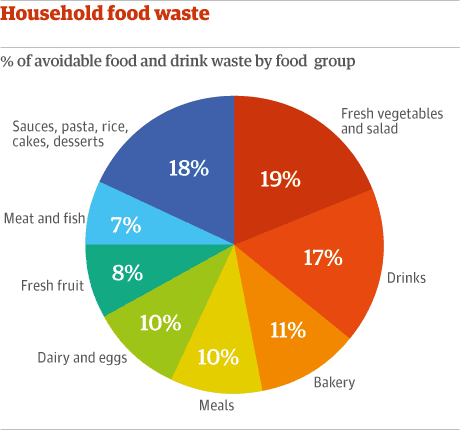 Look at the table below to see how much water is required to produce a selection of common foodstuffs. Also if you want to see how much water we consume indirectly through eating and drinking different foods, we have previously published a great interactive visualisation by Italian
graphic design specialist Angela Morelli.
.جدول ذيل بيانگر ان  است كه چقدر اب به ليتر نياز است كه در شرايط مختلف يك كيلو گرم مواد غذاي توليد شود لطفا خوب دقت و كارشناسي وتحليل كنيد بخصوص دانشجويان رشته هاي مرتبط. What can you do with this data?
Data summary
Report finds Britons are chucking out 4.2m tonnes of food and drink every year that could have been consumed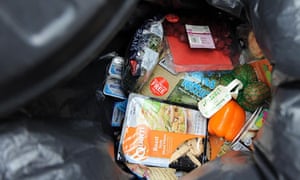 The average UK family is wasting nearly £60 a month by throwing away almost an entire meal a day, according to a new report that reveals the scale of the ongoing challenge to reduce household food waste.
Britons are chucking out the equivalent of 24 meals a month, adding up to 4.2 million tonnes of food and drink every year that could have been consumed. Almost half of this is going straight from fridges or cupboards into the bin. One-fifth of what households buy ends up as waste, and around 60% of that could have been eaten.
There has been no progress in reducing meat and fish wastage, with Britons still throwing away the equivalent of 86 million chickens every year. The top three foods being thrown away uneaten in British homes are bread, potatoes and milk. The equivalent of 24m slices of bread, 5.8m potatoes and 5.9m glasses of milk are being wasted daily, while even cakes and pastries make it into the top 10 most wasted items.
The study by the government's waste advisory body, the Waste & Resources Action Programme (Wrap), shows that since 2007, avoidable household food waste has been cut by 21% to 4.2m tonnes, saving consumers almost £13bn.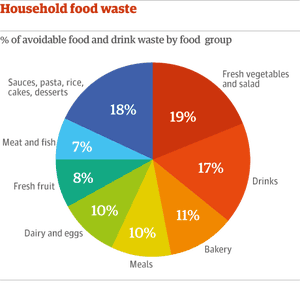 Wrap said that such waste should be cut a further 1.7m tonnes a year by 2025, saving up to £45bn. Its chief executive, Dr Liz Goodwin, called on retailers, manufacturers, governments and consumers to agree to a "major combined effort".
"Consumers are seriously worried about the cost of food and how it has increased over recent years. Yet as Wrap's research shows, we are still wasting millions of tonnes and billions of pounds," she said.
The main reasons for the waste are shoppers buying more than they need, lack of clarity around storage and labelling and over-estimating portions, Wrap said. The carbon associated with avoidable household food waste is equivalent to taking one in four cars off UK roads.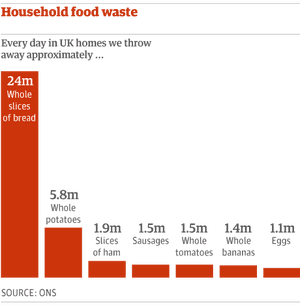 Last month the UK's largest retailer, Tesco, agreed to reduce its multi-buy items and other promotions after revealing that 35% of its bagged salad is being thrown out. It also found that 40% of apples were wasted, and just under half of bakery items.
Andrew Opie, British Retail Consortium director of food and sustainability, said: "There's plenty to be pleased about in these figures. Avoidable household food waste has been reduced by 21% since 2007 and the progress is all the more impressive if one accounts for the growth of 1 million new households within that time. Cutting food waste in the home needs to be one of the UK's biggest environmental priorities."
He said retailers know they are judged by the value they offer consumers "which means not only selling food at the right price but also making sure we can make the most of it. A range of approaches, including giving clear storage advice and recipe ideas, offering a wider range of portion sizes, and developing innovative packaging that extends the shelf life of products, has helped to drive significant reductions in the amount of food and drink we throw away."
• This article was amended on 8 November 2013. The number of chickens thrown away was amended, from 96 million to 86 million. The saving of £13bn is over a five year period, not one year, as the article originally stated.
Typical values for the volume of water required to produce common foodstuffs

Click heading to sort table. Download this data

Foodstuff
Quantity
Water consumption, litres ( ليتر در كيلوگرم)
Source: IME به دقت مقايسه كنيد.
Chocolate
1 kg
17,196  شكلات
Beef
1 kg
15,415 گوشت گوساله
Sheep Meat
1 kg
10,412 گوسفند
Pork
1 kg
5,988 خوك
Butter
1 kg
5,553
Chicken meat
1 kg
4,325 مرغ
Cheese
1 kg
3,178 پنير
Olives
1 kg
3,025 زيتون
Rice
1 kg
2,497 برنج
Cotton
1 @ 250g
2,495 پنبه
Pasta (dry)
1 kg
1,849 پاستا که همانند ماکرونی از گندم دروم تهیه میگردد.
Bread
1 kg
1,608 نان
Pizza
1 unit
1,239 پيتزا
Apple
1 kg
822  سيب درختي
Banana
1 kg
790  موز
Potatoes
1 kg
287  سيب زميني
Milk
1 x 250ml glass
255  شير
Cabbage
1 kg
237 كلم
Tomato
1 kg
214  گوجه فرنگي
Egg
1
196  تخم مرغ
Wine
1 x 250ml glass
109  شراب
Beer
1 x 250ml glass
74  ابجو
Tea
1 x 250 ml cup
27  چاي
مطلب( از اب تا زندگي.دانشمندي گويد اگر تو به فكر خودت نباشي هيچ كس به فكرت نيست